2019 Review
Prudent Global Growth
Our Mission
ADIA's mission is to sustain the long-term prosperity of Abu Dhabi by prudently growing capital through a disciplined investment process and committed people who reflect ADIA's cultural values.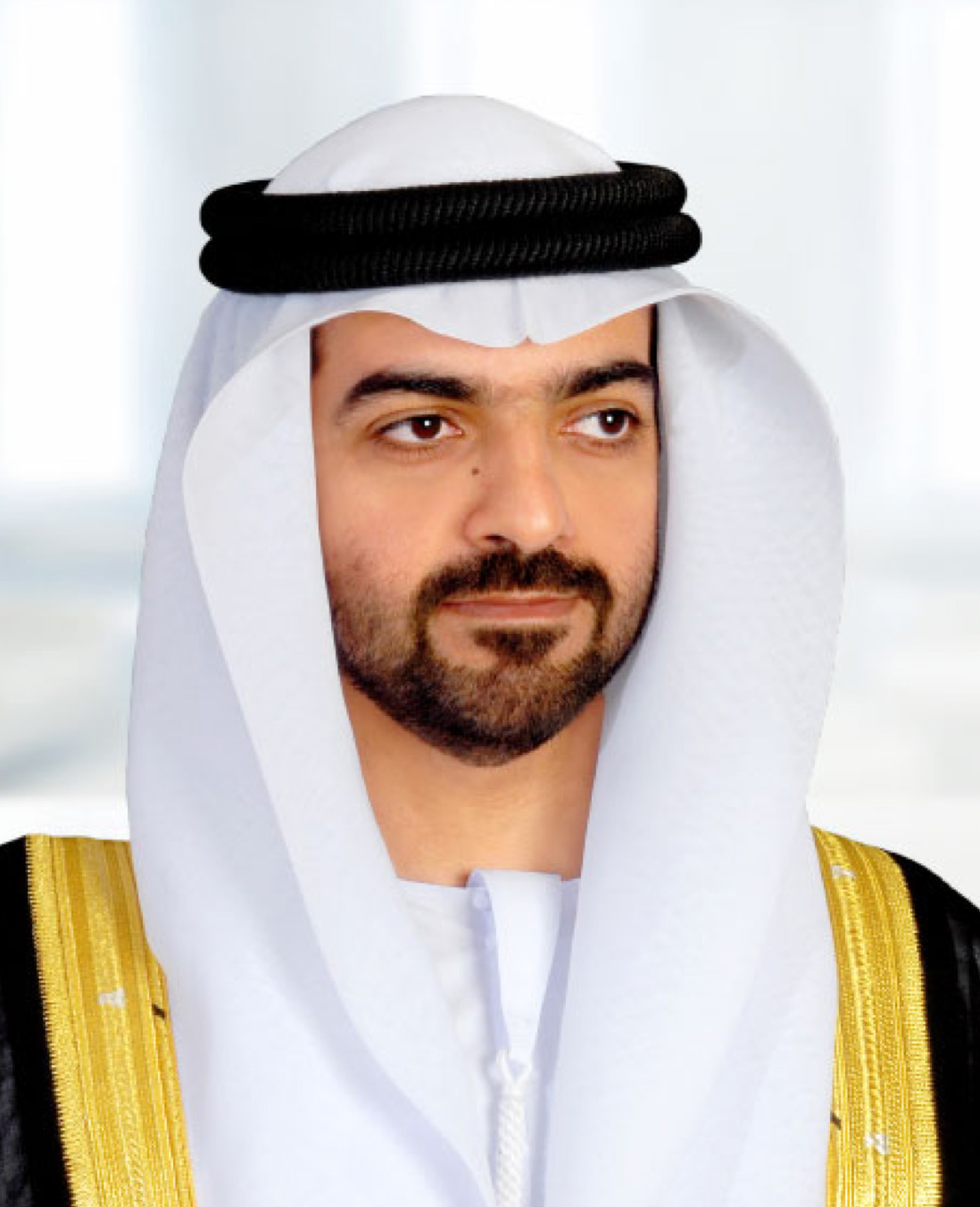 Letter from
Hamed bin Zayed Al Nahyan
The start of a new decade always brings opportunities for reflection, particularly when faced with an economic and investment landscape that has few precedents in history.
Read more
2019 at a Glance
2019 Global Market Highlights
Most equity indices surged by more than 20%, while bonds also delivered solid returns.
Market strength was underpinned by widespread easing in monetary policy.
Global growth remained weak, with lower industrial production balanced by strength in services and consumer spending.
By late 2019, major economies began to show promising signs of recovery.
Key ADIA Developments During 2019
Completed a major project to refine ADIA's strategy model.
Launched a new ADIA-Wide Planning process.
Increased collaboration between departments at a strategic level to enable ADIA to capture investment opportunities that fall between asset classes.
ADIA hosted an Africa Investment Summit to explore opportunities on the continent for long-term focused investors.
Long Term Market Outlook
Covid-19 outbreak has caused a significant slow down in the global economy. Long-term implications remain unclear.
The financial system is more robust than in 2008, and more able to withstand a global slowdown.
China and India likely to remain key drivers of global growth over the long term.
Climate change and ESG considerations to continue gaining prominence among investors.
Advances in technology to bring fundamental changes to the investment industry over the next decade.
At a glance 1/3
Portfolio Overview
Portfolio by asset classLONG‑TERM STRATEGY PORTFOLIO*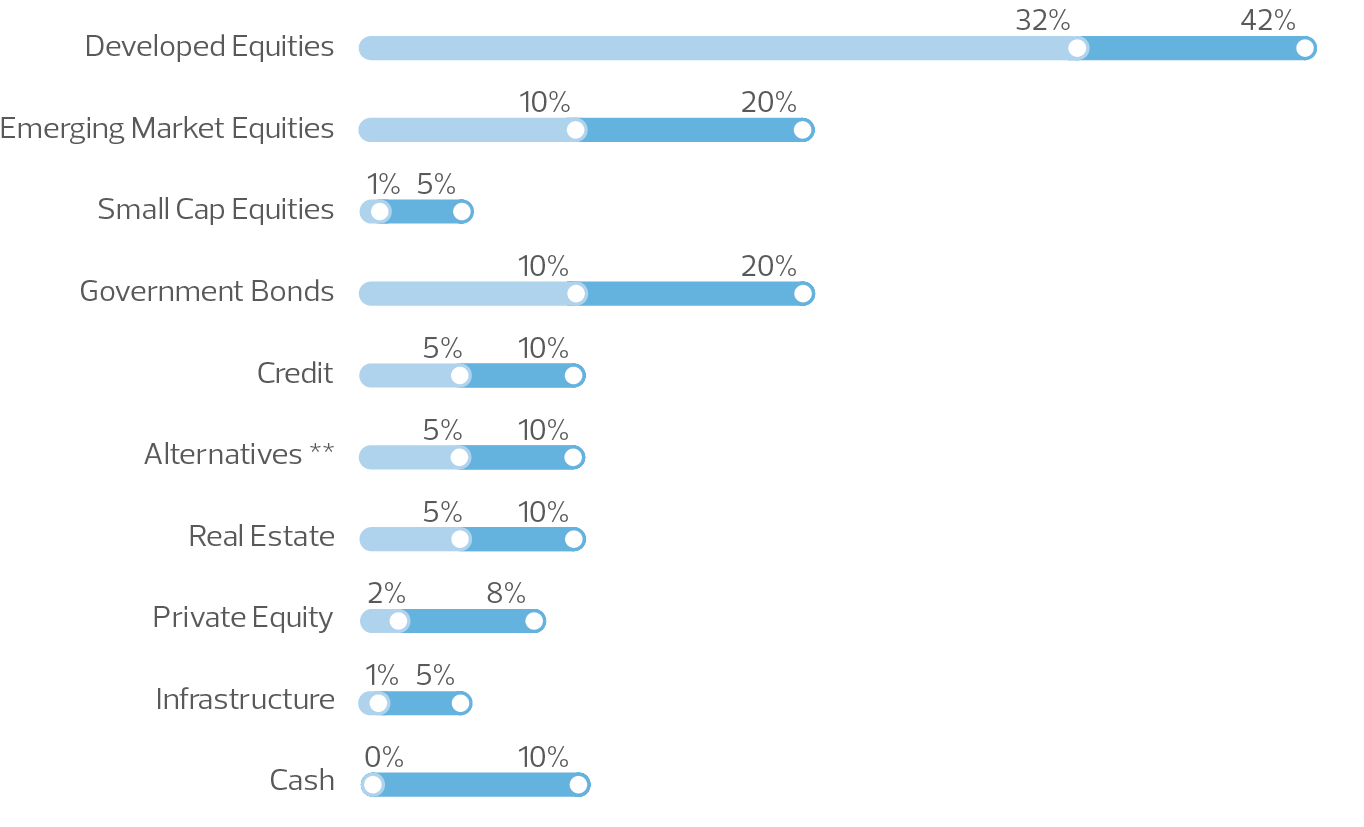 * The above denotes long-term strategy portfolio ranges within which allocations can fluctuate; hence they do not total 100%.
** Alternatives comprises hedge funds and managed futures.
At a glance 2/3
Portfolio Overview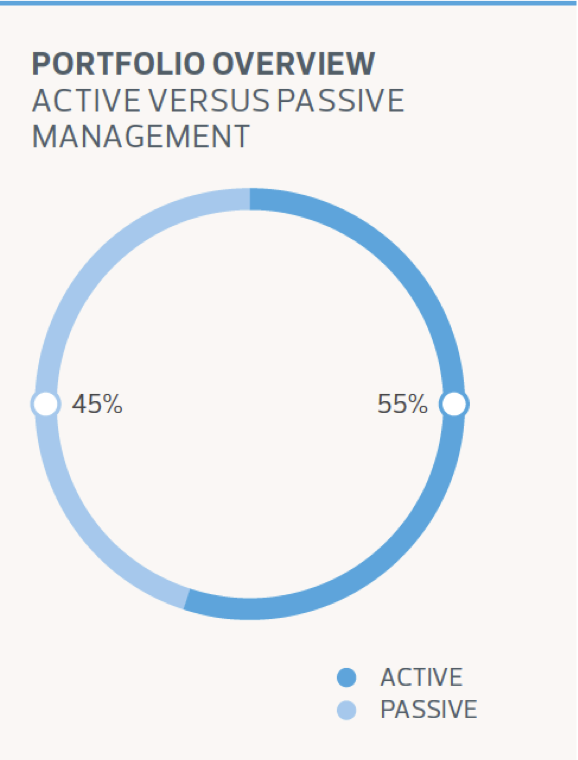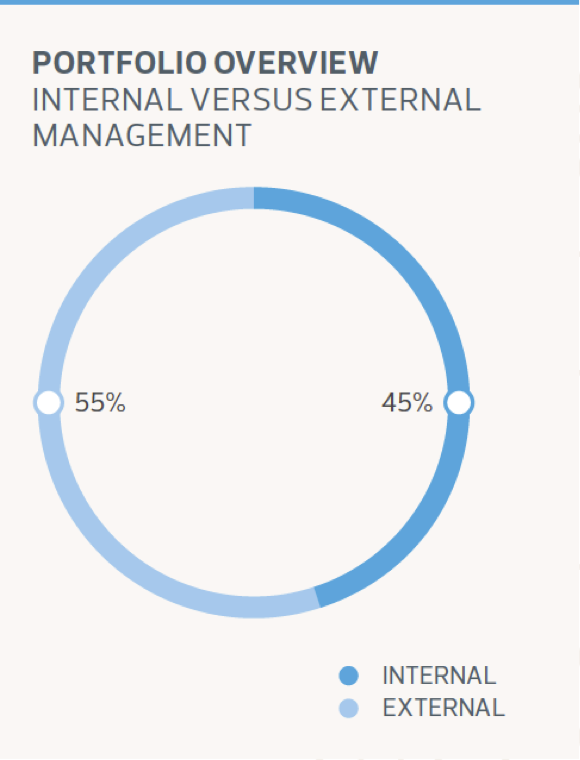 At a glance 3/3
Long-Term Strategy
Portfolio by Region*
North
America 35% min 50% max
Emerging markets
15% min
25% max
Developed Asia
10% min
20% max
*ADIA, as a matter of practice, does not invest in the UAE.
Operational Review
On the surface, 2019 bore all the hallmarks of a successful year. However, the strong market returns masked growing uncertainty as investors sought to navigate a complex assortment of fast moving events and longer-term paradigm shifts.
Read more
Investment Review
ADIA manages a global investment portfolio that is diversified across more than two dozen asset classes and sub-categories. ADIA's investment departments are responsible for building and managing investment portfolios within the parameters set for them through the asset allocation process.
These investment departments, which invest across multiple geographies, have discretion over the origination and recommendation of investment proposals.
For more detail on each of ADIA's major asset classes in 2019, please select the relevant section.
governance
Board of Directors &
Investment Committee
Management of ADIA is vested in ADIA's Board of Directors, which comprises a Chairman, Deputy Chairman, Managing Director and Board Members who are appointed by an Emiri decree of the Ruler of the Emirate of Abu Dhabi.
The Investment Committee assists the Managing Director and is responsible for managing and overseeing investment-related matters. The Managing Director chairs the Investment Committee, assisted by two Deputy Chairmen, with the participation of the Executive Directors of all investment departments and representatives of some control functions as required.
downloads
2019 Review
Download the full 2019 Review PDF. It contains the annual overview of all our activities and performance, including our Managing Director's letter, Operational Review and more detailed breakdowns by asset class.
download PDF